Here you will find all of the shipping details, shipping costs and at the bottom, propagation instructions.
Find Bloomlovers on Facebook where all the news updates are delivered.
Bloomlovers
Commercial member of the AVSA and the AVSC since 1998
Orders are sent out every 2 weeks on Mondays or Tuesdays. You can choose your preferred shipping date, otherwise your paid order will be sent in the next listed date after payment.
Please find below my shipping dates for 2013
These dates can change if weather doesn't permit
If you live in a colder area, your order will be held until your weather is safe to send.
Please note that international orders will be sent only in mid May or June
April 2nd, April 16th and April 30th
May 7th and May 21st
June 4th and June 18th
July 2nd, July 16th, and July 30th
August 13th and August 27th
September 10th and September 24th
October 8th and October 22nd
November 5th and November 19th
HOW YOUR ORDER WILL BE SENT
USA residents, your order will be sent via Priority Mail thru the USPS postal service (I live close to the USA-Can. border and cross the orders myself to mail directly from within the USA.
Canadian residents, Shipping cost varies and I don't have the option in the Ebay auctions to note this appropriately so please see the Canadian shipping rate table below. Your order will be sent via Canada Post, Expedited or Xpress depending on where you live.
International residents, Please see shipping rates below. Your order will be sent via the international Priority mail from the United States Postal Service
COMBINING FOR SHIPPING AND PAYMENTS
Please note that the CORRECT shipping costs ARE listed below. I will combine ALL violet orders for shipping.
If you invoice is not showing the correct shipping cost, please wait and I will send you a corrected invoice. You should normally receive the corrected invoice in 24-48 hours, this time frame may vary depending on the amount of work I have going on. Be patient I will correct the invoice as soon as possible.
If you are purchasing multiple auctions (leaves, plugs, chimeras, plants, ect.), PLEASE wait until you are ALL done before sending the payment, or wait for the total invoice that I will send you, otherwise, you will end up paying a lot of shipping for nothing.
USA SHIPPING
I will combine leaf and plant orders.
African violet leaves

1 - 30 leaves = $9.00

31 - 60 leaves = $10.00

61 - 100 leaves = $12.00

African violet Plugs

$9.00 For up to 6 (plugs) starter plants

$10.00 for 7 up to 13 (plugs) starter plants

$12.00 for 14 - 25 (plugs) starter plants
CANADIAN SHIPPING
The prices quoted below are for up to 30 leaves or 9 plugs. If more are required, the cost will be adjusted accordingly.
BC

V1M, V1P, V1S, V1V-V1Z, V2B-V2E, V2H, V2K-V2N, V2S-V4T $20.00,

V4W-V7Y, V8M-V9E, V9R-V9V, V9X $20.00

All others $30.00 (Express)

AB

T1A-T1C / T1H-T1K, T1X-T4B, T4N-T4R, T5A-T6X, T8A, T8N $20.00

All others $30.00 (Express)

SK

$

30

.00

(Express)

MB

$13.00

ON

All K's

$11.00,

L-M & N's

$12.00,

All P's

$13.00

QC

$11.00

NB

E1A-E1J, E2E-E2S, E3A-E3E $13.00, E1N-E1V, E2A, E2V, E3L-E3V $23.00

E1W-E1X, E3Y-E9H $30.00 (Express)

NL

A0A-A0N, A0P, A1K-A1M, A1S-A2N, A5A-A8A $30.00

A0R & A2V $15.00, A1A-A1H & AIN $21.00

B0C-B0W / B1B-B1G $25.00 (Express)

NS

$

25

.00

(Express)

PEI

C0A-C0B

$

28.00

All others

$13.00

YT

$25.00

NT

$25.00
International shipping
International shipping costs varie from one country to another, please contact me with the name of your country with approximately how many items you wish to order and I will give you the shipping quote.
IIf you have any questions, please don't hesitate to contact me.
Tina xox
LEAVES : If you are purchasing leaves, the auctions are for one leaf each. When the leaves are tiny, I could send two or maybe even three in some cases for the very small varieties. 2 leaves WILL NOT automatically be sent for all miniature varieties just because they are miniatures. Some minis grow close to and sometimes larger than semiminature sizes thus the leaves are large and in that case 1 leaf will be sent. The decision to cut one or two is made while I actually cut the leaves.
Thank you for looking at my auctions.
PROPAGATION
Propagating african violets is very simple and lots of fun. They propagate quickly and don't need much to do it. One leaf can give you from one to many babies that will become beautiful plants. Its also a great school project for children.
There are many many ways to propagate. Below I have explained my way to do it. This way works fine for me, I am sure you will find the best way for you. If something works for you, please don't change your method, we don't like to fix things that are not broken.
First you need to cut a leaf from a plant, the leaves from the 3rd row are the best ones for the job. You count the rows of leaves starting from the center. One row should have 3 leaves therefore the 7th, 8th and 9th leaf from the center should be good candidates for the job.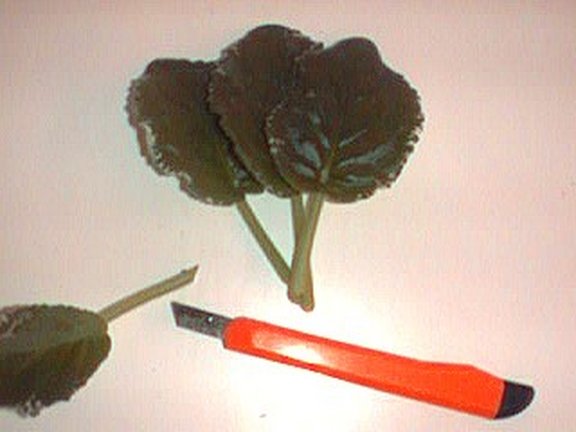 Plant the leaf in a light mixture. You don't want to damage the angle cut of the stem by forcing it into the soil because this is where the plantlets will grow so I like to use a pencil to press a hole into the soil and then put the stem in the hole. Lightly press the soil around the stem to hold it in position and don't forget to mark the leaf so you will remember the name.
You can either place one leaf per container or many leaves together. The choice is yours. Do not fertilize the leaves in the first weeks. The leaves do not have roots to receive the fertilizer. I usually give them a very light fertilizer after 3-4 weeks, by this time, some roots will have grown for sure.
IT IS CRUTIAL THAT THE SOIL DOES NOT DRY OUT AT THIS STAGE, the leaf doesn't have stored energy to live on without water. The soil MUST be kept DAMP but NOT WET, if it is too wet, the stems might rot.
You can bag the pots if you like but if you do, you will have to gradually open the bags to let the plant get use to its new and dryer environement. Bagging a plant helps it keep a higher humidity.
In this photo, you can see the babies popping up beside the stem. You will be the judge to decide when it is the time to seperate the babies from the mother. You do this when you feel comfortable working with the size of the plantlets. The time it takes for leaves to make babies varies from one leaf to another. Normally after or 4 months, sometimes sooner, you will see some little leaves piercing the soil.
When you are ready to seperate the babies, delicately take the leaf and babies out of the pot. I like to use an exacto knife to cut off the babies. Try to cut so to leave some roots on the babies. Then delicately plant into a nice light mixture and don't forget to nametag the plant. You can replant the leaf, it could produce new babies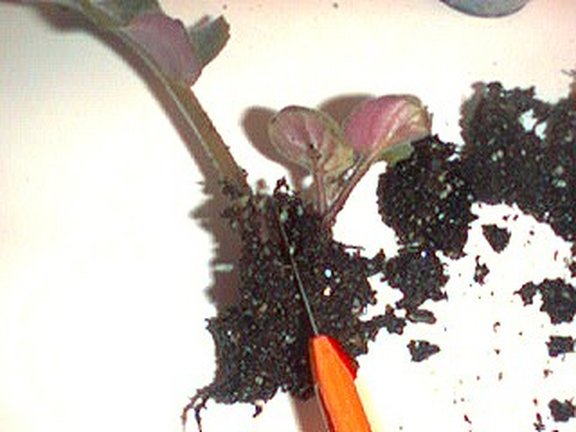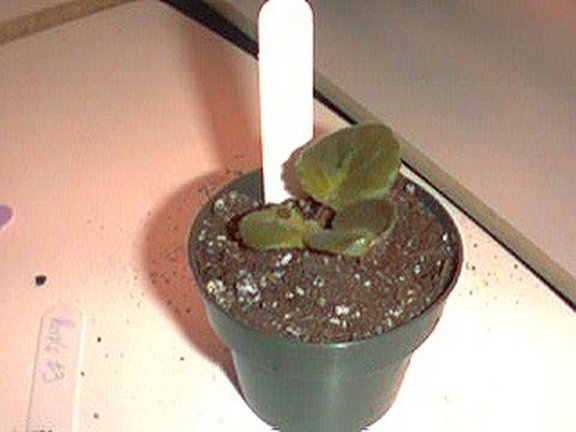 So you see, there isn't much to it. I have tried to explain as clearly as possible the how to do this but if you should have other questions, please feel free to contact me, it will be my pleasure to help you.